Baby Massage in Port Credit & South Mississauga
Positive Effects of Massage on Infants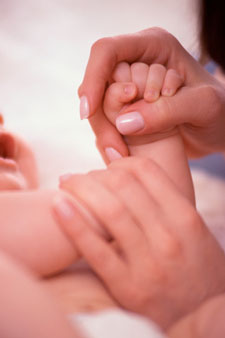 Just as an adult can benefit from positive touch so can infants. For many years, researchers have studied the response babies have to touch or lack of touch. In one of the studies, infants were given three twenty minute massage sessions. Gentle techniques were applied to the head, shoulders, arms and feet. Those babies that were massaged showed greater responsiveness to both tactile and visual stimuli. Gastrointestinal functioning was improved which therefore increased food intake and promoted peristalsis and bowel movement. Babies that get regular massages cry less, stay relaxed for longer periods of time and sleep better.
Healthy infants respond very well to regular massages. They show improved temperament and physiological health, such as reduced colic and less fussiness. The prime time to bring your baby in for a massage is when they are well rested and fed. Their treatment ranges anywhere between 10 to 30 minutes. The therapist will use baby friendly lotions or enriched oils. Babies seem to find abdominal and back stroking and kneading especially soothing (Brown, 1984). Gentle and rhythmical movements are applied to each joint of arms and legs. Massage therapists of Lorne Park Integrated Health can educate parents about the safe techniques to massage their infants. It can provide an opportunity for positive interaction with the baby on all levels. It allows for emotional bonding between the infant and parents as well as effecting the infant's development for the better (Field, 1995).
Click here to read about how hand and foot massages help balance the autonomic nervous systems (ANS) of seriously ill or injured children.
Emotional Bonding Between Infant and Parents
For women with postnatal depression, baby massage can help improve not just the infant's mood but the mother's emotional and mental health as well. As women massage their babies it's natural to interact and make eye contact with the baby.
Baby massage can be great for dads too. Some dads may miss out on a lot of the hands-on care of their babies, especially if they are at work and their baby is breastfed. A regular massage with dad can help to bring them closer and it can become a bedtime routine.
Massaging your baby can also cut down your trips to the doctor because massage has the potential to reduce the number of illnesses. Would you like to schedule an appointment for your baby? Call Lorne Park Integrated Health at (905) 891-2288 today!
Offering therapeutic massage therapy services to
Port Credit, Clarkson and South Mississauga