Effectiveness of Massage Therapy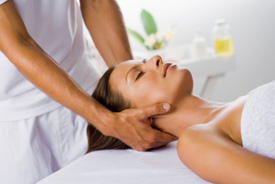 The effectiveness of massage therapy in treating a variety of health conditions was supported by the study done and published by Touch Research Institute:
(The TRI was the first center in the world devoted solely to the study of touch and its application in science and medicine. The TRI distinguished team of researchers, representing Duke, Harvard, Maryland, and other universities)
BACK PAIN
HEADACHES
PREGNANCY
BLOOD PRESSURE
MUITIPLE SCLEROSIS
ANOREXIA
DEPRESSION
CHRONIC FATIGUE SYNDROME
FIBROMYALGIA
JOB STRESS REDUCTION
PREMENSTRUAL SYNDROME
BURNS
ELDERLY
To learn more go to the Touch Research Institute's website.
Ready to schedule your massage? Call us at (905) 891-2288 today!
Offering therapeutic massage therapy services to
Port Credit, Clarkson and South Mississauga