Meet The Physiotherapists
at Lorne Park Integrated Health
Lisa Napoli, MPT, Registered Physiotherapist and Pelvic Health Physiotherapist
Lisa received her Masters in Science in Physiotherapy in 2010 at the University of Western Ontario. Since then, she has extensive experience working with various ages with a variety of musculoskeletal conditions.
Lisa's objective is to find the root cause of a patient's symptoms which aids in the effective treatment of those complaints. Based on each individual's needs, she works with her patients to achieve their specific goals using a combination of treatment techniques such as manual therapy, soft tissue release, acupuncture/dry needling and exercise therapy.
Additionally, as a Pelvic Health Physiotherapist, Lisa takes an interest in helping treat those with pelvic floor dysfunctions such as incontinence, prolapse, constipation, IBS, pain with intercourse, and pre and postpartum clients.
Lisa is a member in good standing with the Ontario and Canadian Physiotherapy Association (Orthopaedic & Women's Health Division), a member of the International Society for Sexual Medicine, as well as an Examiner for the Ontario Clinical Exams regulated by The College of Physiotherapists of Ontario.
In her spare time, Lisa enjoys staying active through a balance of strength training, running, and yoga.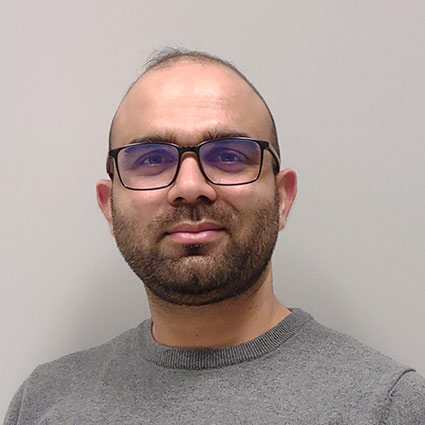 Arshad Ali, BPT, MPT (Neurology), Resident Physiotherapist
Arshad Ali, PT completed his BPT and MPT (Neurology) from Jamia Hamdard University, New Delhi, India. He has over 10 years of experience as a physiotherapist in both hospital and private practice settings. He has done extensive work on postural-related musculoskeletal problems and neurorehabilitation. He has experience working with orthopedic, MVA and sports-related injuries, post-operative rehabilitation and stroke rehabilitation. He takes particular interest in preventing sports and running injuries with targeted strength and motor control exercises.
He delivers workplace training workshops on injury prevention and discomfort management. Other workplace services include workplace assessments and advising on specific health and safety issues. He has a special interest in treating patients with longstanding or chronic and complex musculoskeletal problems. He worked at Proaktive Physiotherapy clinic in New Delhi from August 2014 to September 2019. Currently he's working as a Resident Physiotherapist in Total Care Management clinic in Mississauga and Westbram Physiotherapy and Wellness Clinic in Brampton.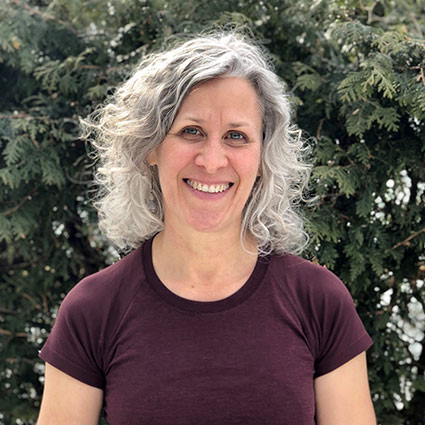 Lenore Foster, CYA-RYT300, CSE, Registered Yoga Teacher and Clinical Somatic Educator
Physiotherapy Assistant
Lenore studied Clinical Somatic Education at the Somatic Systems Institute in Northampton, MA and is certified as a Somatic Educator. Clinical Somatics is a form of neuromuscular retraining that alleviates chronic pain and improves function and mobility. Through her kindness, compassion and sense of humour, Lenore is interested in helping people get in touch with their bodies and help them learn the correlation between stress and how their bodies respond. Ultimately, she hopes to empower people to take control of their own wellness, so they experience more freedom and independence.
Lenore is also a 350-hour certified yoga teacher. She teaches locally and enhanced her studies with various courses including Kinesiology of Yoga, Therapeutic Yoga Intensive, Towards A Healthy Pelvic Floor, and The Roll Model Therapy Balls: Myofascial Self-Care for Yoga and Beyond. In 2015 she opened her home studio and has been offering Hatha Yoga and Somatic Education classes since then. She is currently working towards an additional 300-hour yoga teacher certification.
---
Meet The Physiotherapists at Lorne Park Integrated Health | (905) 891-2288