South Mississauga Reflexology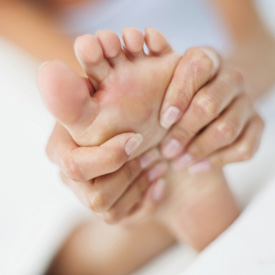 Reflexology involves the application of pressure to the feet and hands. This therapeutic technique targets sunset of zones that reflect the body on the hands and feet.
Reflexology can help to manage:
– musculoskeletal pain
– anxiety
– stress
– hormonal and digestive issues
– tension headaches and migraines
Reflexology promotes circulation, decreases stress and helps the body to achieve a deep state of relaxation.

Aundrea Da Rocha, Certified Foot Reflexologist
Aundrea completed her studies at Humber College. She is has been a Registered Massage Therapist for just a bit over 2 years now. Aundrea loves to learn new things about the human body and the study of anatomy. She is also a certified foot reflexologist and has been practising that for just a bit over 4 years. Her main focus in her practice is to help bring circulation back into the feet through the stimulation of certain organs (via corresponding reflexes in the feet).
In her spare time, Aundrea enjoys playing sports such as soccer and hockey. She also loves travelling and the experience of discovering new places. Aundrea always strives to learn more, not only to better herself, but also to acquire new techniques that benefit her clients. She desires to provide the best possible treatment for each client's specific needs through the holistic benefits of reflexology and massage therapy.